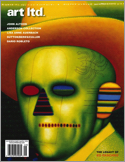 art ltd.
Guaranteed Low Price
RISK-FREE - cancel anytime, online, in 90 days and pay nothing!
Premium, uninterrupted service and no renewal notices
art ltd. is the leading magazine devoted exclusively to the West Coast art market. Editorial is geared towards the educated and motivated art buyer, collector, gallery owner, artist, museum curator and active participant in the West Coast art scene. art ltd. speaks directly to a core audience of art enthusiasts.
Promotion: 6 issues
Retail Price: $35.94

Our Price: $23.95



Order art ltd. Now