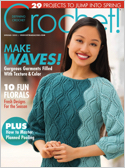 Crochet!
Guaranteed Low Price
RISK-FREE - cancel anytime, online, in 90 days and pay nothing!
Premium, uninterrupted service and no renewal notices
Crochet! specializes in bringing you comprehensive crochet instruction about a variety of projects, ranging from moderately simple to extremely challenging. You'll learn how to make decorative ornaments, comforting scarves and hats, pillow sets, Afghans, warm blankets and more! Plus, Crochet! includes a special stitch guide and photo index to ensure that you move every thread perfectly.
Promotion: 6 issues
Retail Price: $35.94

Our Price: $19.97



Order Crochet! Now