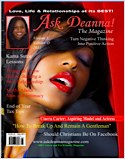 Ask Deanna!
Guaranteed Low Price
RISK-FREE - cancel anytime, online, in 90 days and pay nothing!
Premium, uninterrupted service and no renewal notices
Ask Deanna! is packed with hot and sizzling sex tips, relationship advice, and a cutting edge approach to love, life, sex and relationships. Every issue has something sexual or relationship based for men, women, singles, seniors and married couples. Readers enjoy the hot and controversial articles on taboo topics that everyone loves to discuss but still gives you a roundabout feel with sections on money, fashion, kids, pets and health.
Promotion: 12 issues
Retail Price: $47.88

Our Price: $25.00



Order Ask Deanna! Now